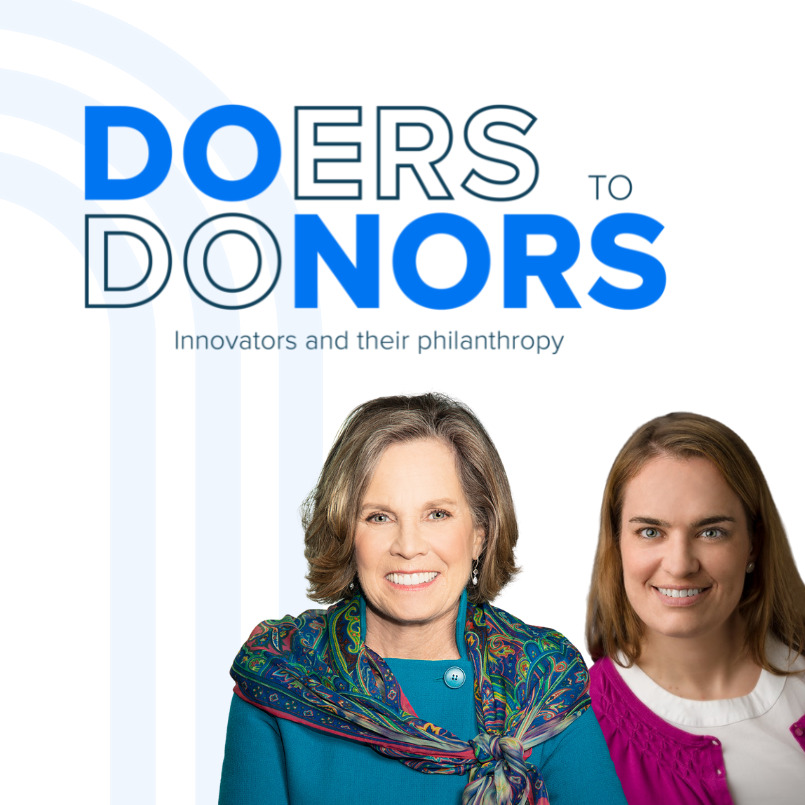 Faith and family drive Hacketts philanthropy
In the Last episode of Philanthropy Roundtable's "Doers to Donors" series, Roundtable President and CEO Elise Westhoff interviewed Maureen Hackett, co-founder and president of the Hackett Family Foundation, and her daughter Kelly Hackett, who is vice – president of the foundation.
The Hackett Family Foundation is dedicated to serving a variety of charitable causes, including mental health, cancer research, and faith-based educational institutions, among others.
During the half-hour conversation, Maureen shared how her family history influenced her giving interests and the partnership she and husband Jim Hackett, an energy and capital industry executive -investment, have forged to raise a family, create wealth and help strengthen their community. through effective philanthropy.
Kelly, who left a promising legal career to join her family's foundation, detailed the impact and thoughtfulness of the foundation's donations and, among other things, how the family's Catholic faith drives her commitment to helping others.
A philanthropic legacy begins
Maureen grew up in an Irish Catholic family on the outskirts of Chicago, the sixth of nine children. Her father struggled with depression, which led to decades of alcoholism and unemployment. As a result, it fell to Maureen's mother to be the breadwinner of the family.
Maureen described her mother as a "trailblazer" who earned a degree in economics from Purdue University, worked in the health and social care sector and started her own employment agency and trade school for women. She was a career woman who simultaneously raised her large family and bravely fought and beat cancer twice. Nonetheless, she always found time to gracefully model compassion and philanthropy…and instilled in her children the value of charitable giving.
"My passion for philanthropy really came from my mother's example," Maureen explained. "To quote her, she didn't have two pennies to rub. But she had a lot of love, a lot of wisdom.
Maureen met her husband, Jim, as a teenager, married when she was 22 and raised four children.
During the early years of their marriage, Jim earned his MBA from Harvard University, then served as CEO of companies in the oil and gas industry before moving into senior management positions in the capital investment. Meanwhile, Kelly has described her mother as a leader in her own right – acting as "CEO of the Hackett family", establishing herself as an active and formidable community leader and spearheading the family's charitable giving.
Of her marriage, Maureen said: "We were blessed and did it together."
Inspired by her parents' philanthropic work, Kelly left a job with an international law firm to join the family office and the Hackett Family Foundation in 2012.
"I felt I had a bigger purpose," she explained. "And I knew from my parents' heritage that I could be of use when it came to their gifts."
Passionate about mental health: "Body, mind and soul"
A top priority for the Hackett Family Foundation is mental health, a cause that is personal to Maureen and began with her father's private battle.
"My father was a very loving man. He was just lost and sick," Maureen said. "To understand that all these years later, I'm very passionate about everyone's right to holistic health… body, mind and soul."
From the start, Maureen focused on advocacy and breaking the stigma of mental illness. She has joined the boards of a number of behavioral health organizations, helping to make meaningful progress for communities coast to coast and sharing her family's journey with mental health. Recognizing the need for longer-term systemic change, she set her sights on policy to improve outcomes. In 2014, she joined the board of directors of Meadows Mental Health Policy Institute for Texas, to fight for accessible, effective, and efficient behavioral health care for all Texans.
Three years later, she and her family made their largest donation to date to establish the Hackett Center for Mental Health in Houston. The Meadows Mental Health Policy Institute's first regional program, The Hackett Center was established just after Hurricane Harvey devastated Texas and Louisiana in 2017, and immediately went to work helping children and their families make in the face of associated trauma.
"I think the most important thing … when my parents created the gift was to initially and very immediately address the trauma and grief of children in the Gulf Coast region," Kelly said. She noted that the center's work in the aftermath of Hurricane Harvey also helped lay the foundations for mental health issues inflicted by COVID-19 years later.
"It was through much of the work done at the Hackett Center in the early years with Hurricane Harvey that we learned how best to approach the unexpected. [during COVID-19] and respond appropriately and effectively as donors and community advocates," she said.
A commitment to curing cancer
In addition to their commitment to mental health, the Hacketts are deeply invested in cancer research and treatment through their support of the University of Texas MD Anderson Cancer Center.
Based in Houston, Texas, MD Anderson is the largest cancer center in the United States and was recently named the best hospital in the world for oncology and related cancer treatment by Newsweek magazine.
"My mum is a survivor of breast and colon cancer, so cancer is high on my list as well," Maureen said. "I have always enjoyed volunteering with MD Anderson, which I did as a young wife with four small children. And, now, I'm a proud member of the board of visitors, even chairing the philanthropy committee. Kelly has just joined the Board of Directors and it is so rewarding to see my lifelong passion in this area influence the next generation of the family.
The importance of faith
More generally, the strong Catholic faith of the Hackett family is the basis of the way they live and give.
Maureen remembers her first act of charity being making pies with her mother and delivering them to the nuns who lived in the convent attached to the school she attended. When she had children of her own, she shared with them the joys of faith-based giving, whether with time or money.
For her part, Kelly has spent her Sundays for more than 12 years providing ministerial and Eucharistic services to homebound residents of a nearby seniors' residence, recognizing that philanthropy is about giving a myriad of resources. Kelly's parents taught him and his siblings that brotherhood and assistance are treasures worthy of themselves and equally essential to the well-being of mankind.
Kelly is also proud of her family's gifts to Catholic education, something she was blessed to enjoy for many years and which reinforced the importance that generations before her have always placed on a life of service. "It's the common thread that gives meaning to all our donations," she said. "Our Catholic faith is the foundation of all our values ​​in life. And that's… where we get the perspective that it's essential to share our blessings with everyone in the community.
Learn more about "Doers to Donors" and watch the full interviews featuring Maureen and Kelly Hacketco-founder of Home Depot Bernie Marcus and Acton Academy co-founder Jeff Sandefer. Subscribe to the roundtable Youtube channel to be sure not to miss the next episodes.