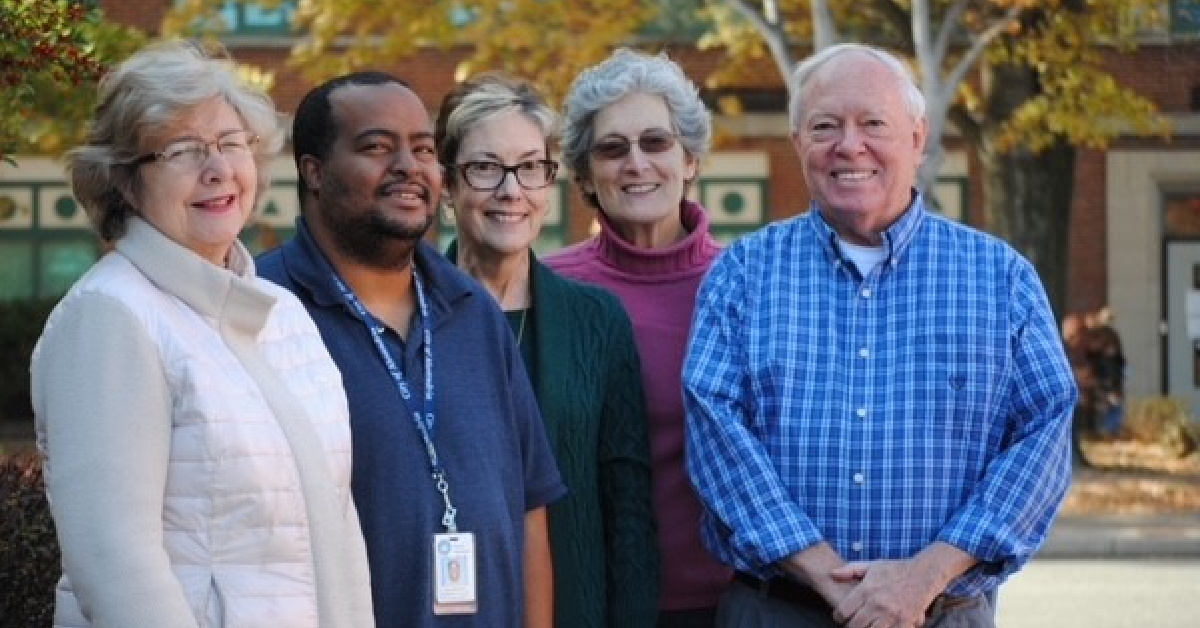 Friends of Alexandria Mental Health Center define what it means to have friends
ALEXANDRIA, VA — It's a small nonprofit with big impact and a vibrant spirit, and yet it's one of our city's best-kept secrets.
Founded in 1984 by dedicated volunteers such as Lois Van Valkenburg and Peter Straub as well as Community Services Board Director Judith Krasnow, the Friends of Alexandria Mental Health Center ("Friends") provide financial assistance and hope to Alexandrians who participate in municipal services. for mental health issues, substance use disorders and developmental disabilities.
Friends provides a financial safety net to Alexandrians who receive mental health services through the city's Community Services Board (CSB) programs, part of the Alexandria Department of Community and Social Services (DCHS). Friends also collaborates with partners working to advance mental health across the city – those who strengthen the safety net and improve mental health awareness and advocacy.
To understand Alexandria's current needs, in 2021, the CSB served 4,283 Alexandrians through mental health, developmental disabilities and substance abuse services. That year, 30.1% were 20 and under.
Anyone and any family, regardless of education, means or age, can go through difficult times and find themselves or a loved one facing a mental health issue and unmet needs. For 40 years, Friends has been filling in the gaps.
It takes courage to take on a mental health challenge. CSB reaches out to Friends for financial assistance if a client is facing a challenge that may interfere with a person's recovery, including: a need to move from a shelter to an apartment, a heated and air-conditioned home, a clean mattress, a trip to the doctor, medicine, dental care, a training course, a summer camp for a child, a visit to the university for first generation young people and school clothes for children. Friends fund these needs within days. In an emergency, Friends sends a check within 24 hours. Friends usually donate between $45,000 and $75,000 a year.
"If you can't get the medications, glasses or dental care you need, it's hard to focus on your recovery," said Rebecca Grueneberger, a recent co-chair of the Board of Friends. "The founders realized that people with mental health issues also have basic life needs, which the city cannot afford. So the founders created Friends. Of every dollar donated to Friends, 98% goes directly to customer needs. Friends has an all-volunteer board, no paid staff, and no rent. We only pay for materials such as supplies, stamps and envelopes. We are really skinny!
Kate Garvey, Director of DCHS, said, "The Friends of Alexandria Mental Health Center plays a vital role in supporting the efforts of our staff and meeting the unique needs of residents with behavioral health issues. The commitment and compassion shown by this group of faithful volunteers is an incredible example for all of us. We are eternally grateful for their hard work and long term efforts to create a caring community for those we serve.
Customers are helped directly. One wrote: "Thank you for buying my bed. Not only do I get the occasional good night's sleep, but with my knee it's easier to go to bed and get up. Thanks again."
A West End Wellness Center staff member wrote: "Today I took five members to the cinema. They were so grateful to have a social outing. A member remarked that she hadn't been to the movies in over 20 years. With your support, we are able to offer support and socialization to people who may not always feel included in what others may consider to be "normal" life.
Through education and outreach to the Friends community, there are those who have been less afraid to step out of the shadows of stigma and the light of treatment, and there are those who have asked for help. help instead of ending their lives.
Bill Rooney, DCHS Adult Mental Health Team Supervisor, remarked, "Friends plays an important role in helping to support some of the city's most vulnerable residents. Friends' willingness to be flexible and quick in their responses makes all the difference in helping customers.
DCHS Chief of Child and Family Behavioral Health Services Tricia Bassing said, "The friendliness and compassion of the members of Friends never ceases to amaze me. The Friends' constant presence and commitment to people with behavioral health issues is admirable and a role model for all. Friends have positively impacted countless lives in invaluable ways, big and small. I know our care systems are better for having friends.
Friends illustrates how Alexandria is a city of kindness and compassion.
To make a difference with Friends, current board co-chairs Anna Dvorchik and Mary Ray, encourage residents to volunteer with the organization or send a check for any amount to:
Friends of Alexandria Mental Health Center
2525 Mont-Vernon Avenue
Alexandria, Virginia 22301
Donors can also donate online through Spring2ACTion on April 27, 2022.
Allison Silberberg, former Mayor of Alexandria, serves on the Board of Friends of Alexandria Mental Health Center.
TRENDING: Epic Dog Walk Happening in Alexandria, April 2


Post views:
11