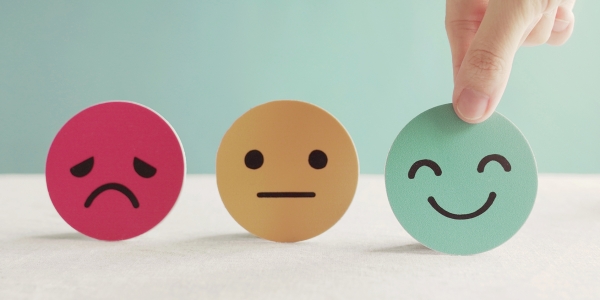 How schools can help tackle the children's mental health crisis
Upon hearing the news of the death of Grand Archbishop Desmond Tutu late last year, I was reminded of one of his most insightful quotes: "There comes a time when we have to stop just pulling people out of the river. We have to go upstream and find out why they're falling in."
It's a sentiment I've thought about a lot when it comes to children's mental health and how we're getting ahead of the issue to provide tools, knowledge and skills to understand students' experiences before they reach crisis point.
After all, everyone in education is acutely aware that Child and Adolescent Mental Health Services (Camhs) are becoming increasingly overstretched and more young people than ever are suffering from mental health issues.
We can't keep pulling people out of the river – we need a different tactic.
Mental health: early interventions to support students
In my role as strategic manager for The Carnegie Center of Excellence for Mental Health in Schools At Leeds Beckett University, that's exactly what we look at, looking for schools that take evidence-based approaches to educating children about mental health and wellbeing.
And it is clear that there are a growing number of school leaders willing to implement evidence-based early intervention strategies that can move away from reactive action to focus on promoting good. -to be an integral part of the educational process.
This was largely the path set at St Nicholas Church of England Primary School in Blackpool, where I was headmaster in 2013 at a time when the school "needed improvement".
A program we introduced, which was designed to improve student well-being, not only delivered excellent results, but was also economical and relatively simple to incorporate into typical lessons.
It works like this: each child gets a set of three cups to take with them to each class – one red, one amber and one green. Children are encouraged to use the cups to indicate how well they think they understand the topics covered during the lesson.
So if a child struggles, they move the red cup forward. Amber means they're mostly clear on the topic but may have questions, and green means they understand and want to move on.
We found that students quickly get used to self-assessing their understanding of new material.
The mugs helped teachers quickly identify who needed help, but more importantly, kids had a say in how they were assessed and gained confidence because they had a stake in their own education.
Pupils' resilience and self-esteem increased and the school helped learners to understand that when they made mistakes it was not the end of the world but a key part of the learning process. This means that they made progress, which ultimately improved their well-being.
Of course, lesson-by-lesson early intervention strategies are one thing, but there are also more structural things we could do.
Give students control of their learning
At St Nicholas we have developed a comprehensive wellness programme, which has also been designed to raise standards in all subjects. Basically, each strategy was directly linked to Ofsted's requirements.
One approach was to introduce the Chilli Challenge, which gave students the opportunity to differentiate their own learning independently.
AAs children entered each lesson, they saw a set of cards on the whiteboard displaying colored chilies representing increasing levels of challenge – green (good and spicy), amber (getting hot) and red (scorching).
The teacher wrote down the different activities related to each of the levels and the children had the choice to undertake the tasks they wanted.
Initially, the more capable children tended to opt for the green card tasks, which often did not stretch them but which they could complete quickly.
However, a key element was that wherever a child started the Chilli Challenge, once the tasks were completed, they would then be encouraged to move on to the next stage activities.
Thus, students became more and more likely to stop and think about the set of activities to undertake, which would allow them to do work but at the most difficult level.
It gave students greater autonomy in their learning and teachers the freedom to plan and deliver lessons they felt were appropriate for the children they were teaching.
The result of introducing a whole-school wellness program has been more confident and resilient children across the school, who have also bucked national trends in achievement – students from homeless communities, boys in literacy, girls in mathematics.
In 2016, the school became one of only 4% that moved from "needs improvement" to "outstanding" in all categories.
This underscores the fact that wellness and standards are not mutually exclusive and it is not hard to imagine the impact of a wellness program being introduced more widely.
Well-being support in schools
There are also examples of successful initiatives internationally. Inot Sweden85% of schools have nurses and other trained professionals to provide on-site mental health support.
Regular health talks with children are part of early intervention techniques they unfold, where visual prompts, such as pictures of animals showing different emotions, can be used to help children express how they feel.
Activities that build self-confidence and resilience are also promoted in classrooms, where children are encouraged to work in small groups and defend their opinions on a particular issue.
Importantly, these on-site teams are run by the schools, rather than an external body, so they know the children they are working with, and school leaders can direct key services to where they are most needed. required.
Of course, however, this Camhs-style school support is not always possible in this country, with our disparate supply of school nurses.
However, it is always worth contacting your local authority to find out what is possible as, depending on your location, you may have access to more Swedish-style school nursing services than you might think.
In Canada, a slightly different approach is taken to prevention, focusing on the fight against the stigma around mental health in schools with targeted lessons to teach young people to express their feelings.
Here, teachers take a mental health quiz before class and have access to a comprehensive information pack to fill in any gaps in their knowledge.
They then deliver targeted lessons specifically designed to improve students' understanding of mental illness, change negative attitudes that can lead to discrimination, and ensure that young people are well informed about how they can help themselves. themselves and help others.
Thus, students could be asked to research the prevalence of depression in their neighborhood, identify symptoms of the condition, and participate in a class discussion about effective self-help techniques and available treatments.
Interestingly, students were found to engage with the new curriculum much more easily when lessons were taught by their own teachers rather than by a mental health professional.
Children often don't have the vocabulary to explain their emotions and schools such as Penistone Grammar School, Sheffield, have tackled this problem by introducing a resilience programme.
So in grade 7, each child has one lesson a week in which they can learn how the mind works or the psychological science behind learning. Discussions about what mental health is – and what it is not – are also helpful, and children are regularly reminded of where they can turn if they are having difficulty.
Programs like this help uncover hidden problems and encourage children to come forward when they need help.
Encourage children to talk
These are great ideas but, from our work, it is clear that we can no longer stick to the status quo – we need to put mental health first in education.
Children need more opportunities to develop the language and the confidence to talk openly about problems they may be having.
In addition, we must ensure that when mental health services are put in place, they are analyzed and evaluated with the same rigor as educational progress.
Research at Penistone Grammar to find out how different services worked found that 28% of children who had been referred to its on-site talking therapies left feeling that they had not benefited from the experience at all.
Disappointed with this result, the school consulted with students on what else might work. From there, he brought in an art therapist to offer students an alternative to the advice already available.
This small change reduced the percentage of children who said they did not receive it to just 8% – that's a third more children who feel they received the help they needed.
A vision for the future
The enormous challenge schools have faced in supporting children's mental health throughout the pandemic has given rise to a whole new level of ambition for change.
Schools such as Penistone have been bold in their approach, introducing a targeted mental health curriculum and constantly monitoring the services provided.
The wider impact of these measures has been a 60% drop in after-school detentions and a 64% drop in internal exclusions.
The education sector is the gateway to creating a national public mental health strategy where successful programs rolled out in individual schools and multi-academy trusts can be replicated across the UK, senior leaders drawing on the most effective global initiatives such as those in Sweden and Canada.
Although some strategies may seem expensive, the initial costs are likely to be far outweighed by the costs associated with helping students, or even adults, who need to be taken care of for mental health issues later on.
This is what it means to prevent people from falling into the river, and it would mean that we give children and young people the educational – and life – opportunities they deserve.
Andy Mellor is the former National President of NAHT and is currently the Chief Strategic Officer of the Carnegie Center of Excellence for Mental Health in Schools at Leeds Beckett University