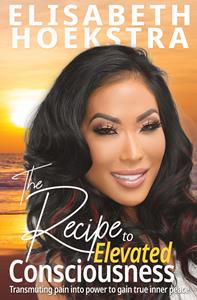 "The Recipe for Elevated Consciousness"
DETROIT, March 15, 2022 (GLOBE NEWSWIRE) — 4biddenknowledge Inc. has announced that book sales have now begun for "The Recipe to Elevated Consciousness." This self-help book was written by Elisabeth Hoekstra, COO of 4biddenknowledge Inc. and founder of the popular brand "Bio-Hack your Best Life". The first part of the book shares an exclusive interview that award-winning television personality Regina Meredith conducted with Ms. Hoekstra. They dive deep into Ms. Hoekstra's story in hopes that readers will find their own inspiration to grow and make changes within themselves.
"I have always had a passion for helping people. My book will help readers identify their inner strength and abilities. It will also provide education to rejuvenate them to achieve their life and career goals while raising their consciousness to a new level. I believe that knowledge is infinite. Everyone should learn, read and acquire as much knowledge as possible," said Elisabeth Hoekstra.
The second part of the book details the holistic modalities that have helped Hoekstra, and others who practice them, make lasting positive changes in their mental and physical health. The book is filled with links to resources and scannable QR codes so readers can conduct their own research. Hoekstra shares her experiences in the book with 39 modalities, some of which helped a little, and some of which changed the entire trajectory of her life. Readers will find inspiration and tools to make positive changes in their inner world so they can cultivate a life of peace, optimal health, and happiness.
"A traumatic start in life does NOT have to be a life sentence." – Elisabeth Hoekstra
This title is available for purchase on Amazon:
Elisabeth Hoekstra
4biddenknowledge Inc
2645 Executive Park Drive
Office 419
Weston, Florida 33331
[email protected]
Related Images
Picture 1
This content was posted through the press release distribution service on Newswire.com.
Featured image for 4biddenknowledge Inc.